Shortcuts
Þurranes
In Þurranes we offer accommodation in four houses, 3 new cottages and the old Farm. Each cottages can be rent for one night or hole week. In the old farm we offer single rooms or you can rent the hold house.
The big house - it has five bedrooms for two and mezzanine for eleven. It includes kitchen with appliances and dining room for up to 40 people. We offer accommodation in made up beds.
Camping site is in the vicinity of the house. On the terrace is a hot tub.
The cottages - three cottages of 43 square meters each with two double bed bedrooms and mezzanine, bathroom with shower, small kitchen with all necessary equipment, TV in the living room and a delux hot tub on the patio. Each cottage can accommodate 6 grown-up in comfort.
Get directions
Þurranes
Saurbær
GPS Points
N65° 22' 26.011" W21° 54' 24.808"
Service
Travel directory for Þurranes
The official travel index of Iceland
Mini-Zoo & Open farm
23.81 km
At our lovely little farm Hólar you can expect to find a variety of animals, including horses, dogs, cats, rabbits, a cow, ducks, sheep, chickens, turkeys, goats, a pig and even a raven! We would lov
Camping
24.33 km
Pool, hot tub, steam bath and wading pool in beautiful surroundings.
Hiking Tours - Hiking
12.30 km
Ólafsdalur by Gilsfjörður, history of 1000 years Ólafsdalur is a small valley, surrounded by high mountains, where the first agricultural school in Iceland was established in 1880. The beautiful s
Hotels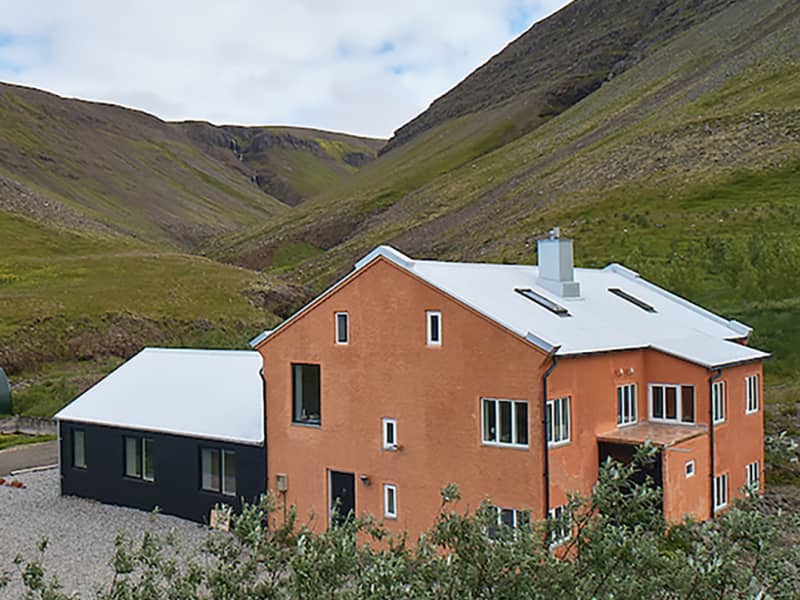 15.05 km
Welcome to Guesthouse Nýp! B&B, twin or double, full bedding. Our guesthouse is off the beaten track with fantastic scenery across the Breiðafjörður bay and a view to the Vestfjords. Two guest
Hiking Tours - Hiking
12.30 km
Ólafsdalur by Gilsfjörður, history of 1000 years Ólafsdalur is a small valley, surrounded by high mountains, where the first agricultural school in Iceland was established in 1880. The beautiful s
Others
Ytri-Fagridalur
Farm food direct
Ytri-Fagridalur
371 Búðardalur
893-3211
Hótel Ljósaland
Guesthouses
Saurbær
371 Búðardalur
776-4103, 776-4103