Shortcuts
Grundarfjordur
Home to Mt Kirkjufell.
Grundarfjörður is a picturesque town situated on the fjord of Breiðafjörður. The town is located right next to Kirkjufell mountain which is certainly one of the most famous mountains in Iceland, if not the world. Mt. Kirkjufell is the landmark of Grundarfjörður and visible from all angles in town.
It is not unusual for photographers from all over the world to make their way to Grundarfjörður for the sole purpose of photographing this unique mountain which has even starred in a number of films. But there is a lot more on offer in Grundarfjörður than merely magnificent mountains. Nature abounds, with vibrant birdlife, spectacular waterfalls, great hiking trails and exciting marine visitors such as seals and whales putting in an appearance every now and then.
During the long summer days, there are daily boat trips where visitors can go deep sea fishing, see puffins and other beautiful birds and perhaps even catch sight of a whale or two.
Grundarfjörður is the perfect location for people who wish to stay for one or more nights in the area. It is conveniently located in the middle of Snæfellsnes and provides easy access to Stykkishólmur, Snæfellsbær and the Snæfellsnes National Park.
There is a great selection of accommodation available, with hotels and hostels, home guesthouses, and a campsite by the swimming pool.
The swimming pool with its hot tubs is just one of a number of exciting services around the town. There is also a golf course, family restaurants, a coffee shop, an information centre with some interesting exhibits, horse rentals, a pharmacy, a liquor store, a dry cleaning and laundry service and a well-stocked grocery store. Nice walking and hiking trails are marked up to the mountains and give spectacular view over the Kirkjufell mountain where it stands separated from the mountain range.
Though most visitors to Grundarfjörður arrive by road, there are also thousands that come by sea. Grundarfjörður Harbour makes every effort to make a cruise ship's visit comfortable and memorable for passengers and crew alike and as a result the number of cruise ships visits have increased from 2 in 2001 to no fewer than around 50 in summer 2019.
During summer the town truly comes alive in a number of different ways. During the town festival, "á góðri stund", which is held the last weekend in July, the town literally changes color when inhabitants and their guests decorate their houses in red, blue, yellow and green and indulge in a range of activities for all the family, from art exhibitions to concerts on the pier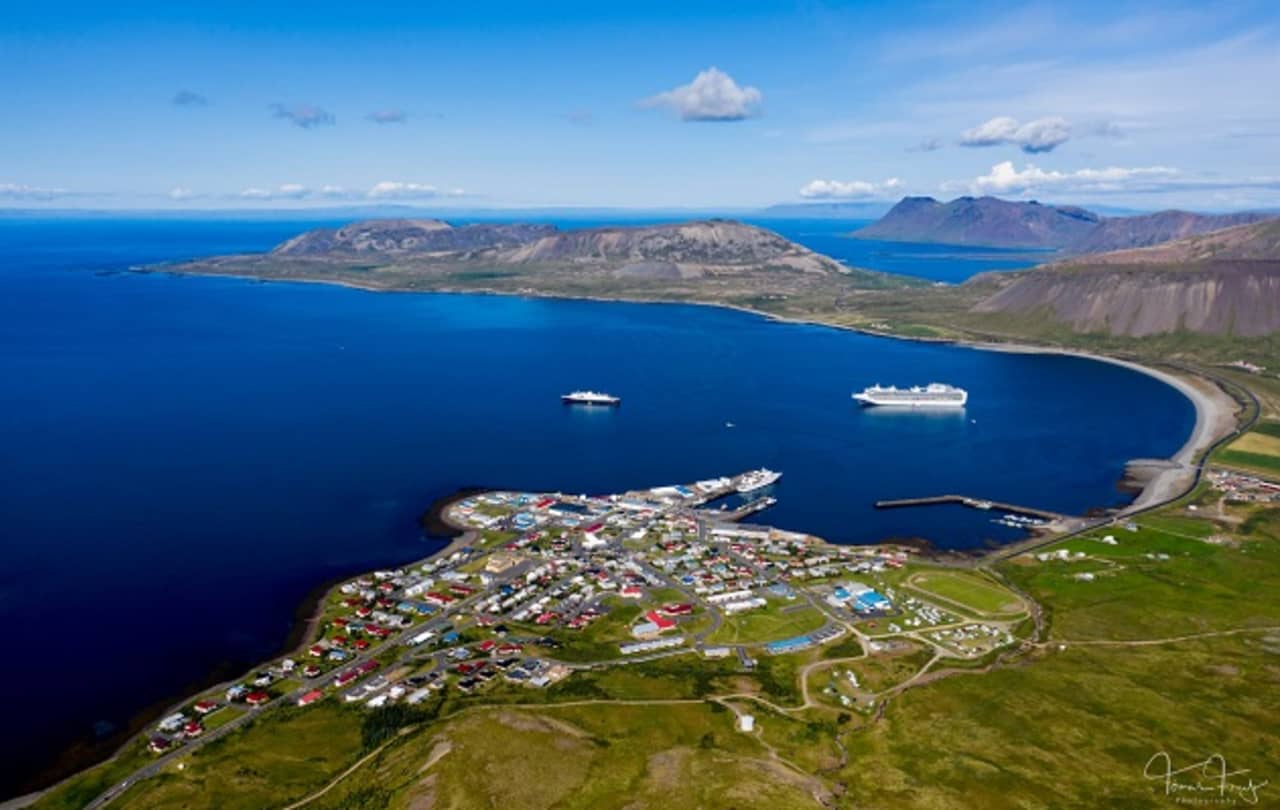 Get directions
Grundarfjordur
GPS Points
N64° 55' 30.102" W23° 15' 33.471"
Travel directory for Grundarfjordur
The official travel index of Iceland
Others
Storyteller´s Lodge
Cultural Centres
Sæból 13
350 Grundarfjörður
893-7714
Krums
Crafts & Design
Eyrarvegur 20
350 Grundarfjörður
842-1307
Others
Sæból / Ocean Lair
Apartments
Sæból 46
350 Grundarfjörður
868-8316
Snoppa Apartment
Bed & Breakfast
Grundargata 18 n.h.
350 Grundarfjörður
897-6194, 868-5167
Bjarg Apartments
Apartments
Grundargata 8
350 Grundarfjörður
616-2576
Lárperla / Ocean Pearl
Apartments
Grundargata 78
350 Grundarfjörður
868-8316
Dísarbyggð
Cottages
Þórdísarstaðir
350 Grundarfjörður
892-7746
Setberg Travel Service
Guesthouses
Setberg
350 Grundarfjörður
438-6817
Hálsaból Cottages
Cottages
Gröf 1
350 Grundarfjörður
8476606
Grundarfjörður Hostel
Hostels
Hlíðarvegur 15
350 Grundarfjörður
895-6533, 562-6533
Others
Mæstro - Street food
Diners
Grundargata 33
350 Grundarfjörður
7745534
Kaffi 59
Cafés
Grundargata 59
350 Grundarfjörður
4386959
Nature
Grundarfjörður's beautiful landmark is the most photographed mountain in Iceland. Its isolated position jutting out into the sea makes it a focal point for tourists and seamen alike.
Kirkjufell (Church Mountain) is 463 meters high and visible from all angles in town.Grundarfjörður is the ideal place to enjoy the amazing colours of the sunset behind the mountain.