Nr. 3 Umhverfing art exhibition in Snæfellsnes peninsula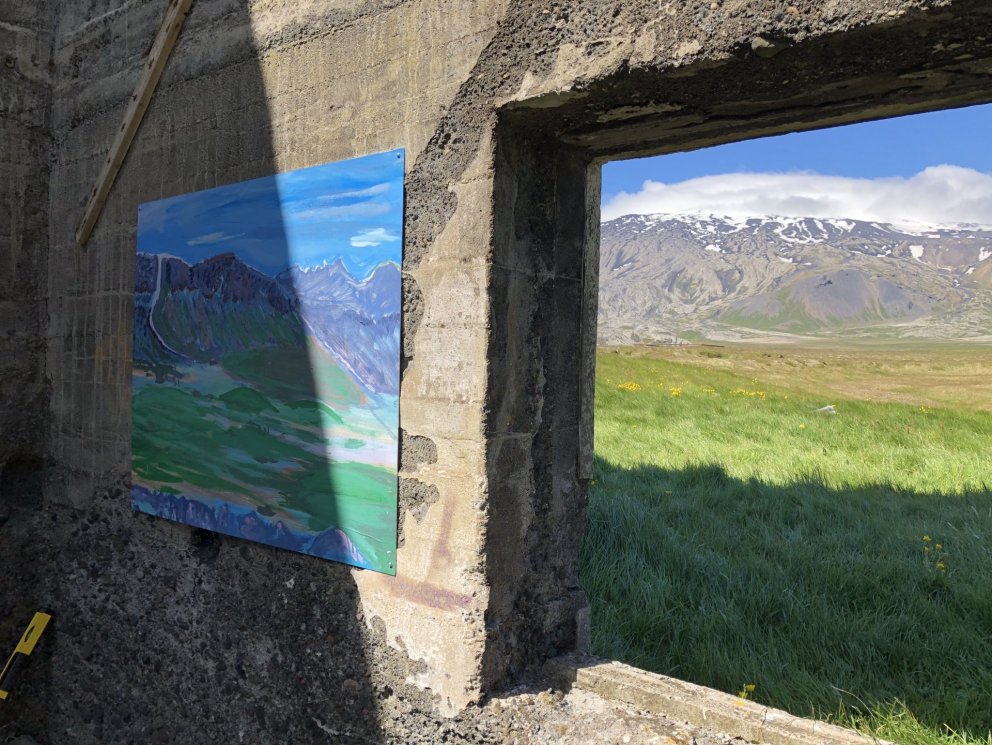 Nr. 3 Umhverfing in Snæfellsnes peninsula is the most recent art exhibition of the art project Umhverfing, organized by the Academy of the Senses. The project travels around the country. At each location, there is arranged an art exhibition with the works of artists that trace their roots to the district in one way or another. The exhibitions make use of alternative spaces that are neither built nor intended for art exhibitions. In this way, they are creating new and exciting relations between the surroundings and the artworks. 
This time the exhibition hosts artworks by seventy-one artists. Some of the artists have made new works especially for the exhibition, and some of the artworks have previously been at exhibitions abroad but are now being premiered in Iceland.
The exhibition is divided between 16 location-centers around the Snæfellsnes peninsula.
Nr. 3 Umhverfing is organized in cooperation with the Academy of the Senses and the Snæfellsnes Regional Park (Svæðisgarður Snæfellsnes).  The curators are the artists Anna Eyjólfs, Ragnhildur Stefánsdóttir and Þórdís Alda Sigurðardóttir.
The artists:
Aðalheiður Valgeirsdóttir · Anna Eyjólfs · Anna Gunnlaugsdóttir · Anna G. Torfadóttir · Arnaldur Máni · Árni Páll Jóhannsson · Ásdís Arnardóttir · Áslaug Sigvaldadóttir · Ásta Sigurðardóttir · Bjarni Þórarinsson · Björn Roth · Dieter Roth · Dóra Kristín Halldórsdóttir · Edda Þórey Kristfinnsdóttir · Elsa Dórothea Gísladóttir · Elva Hreiðarsdóttir · Erró · Freyja Eilíf · Guðrún Vera Hjartardóttir · Gunnar Jónsson · Harpa Árnadóttir · Helgi Þorgils Friðjónsson ·   Hildur Margrétardóttir · Hjördís Halla Eyþórsdóttir · Hulda Hreindal Sigurðardóttir · Inga Sigga Ragnarsdóttir · Ingibjörg Sigurjónsdóttir · Ísak Snorri Marvinsson · John Zurier · Jóhanna Hreinsdóttir · Jón Sigurpálsson · Jón Þorsteinsson · Karna Sigurðardóttir · Katrín Agnes Klar · Katrín Lilja Kristinsdóttir · Kestutis Musteikis · Kristján Guðmundsson · Logi Bjarnason · Lúðvík Karlsson - Liston · Magdalena Margrét Kjartansdóttir · Magnús Sigurðarson · Margrét H. Blöndal · Margrét Jónsdóttir · Margrét Elfa Ólafsdóttir · Megas · Níels Hafstein · Nina Hubbs Zurier · Ósk Vilhjálmsdóttir · Peter Lang · Ragnar Kjartansson · Ragnar Kjartansson, senior · Ragnhildur Ágústsdóttir · Ragnhildur Stefánsdóttir · Ragnhildur Lára Weisshappel · Rakel Steinarsdóttir · Rannveig Jónsdóttir · Rósa Njálsdóttir · Rúrí · Sigríður Björnsdóttir · Sigurborg Stefánsdóttir · Sigurður Guðmundsson · Sjøfn Har · Sólrún Halldórsdóttir · Steingerður Jóhannsdóttir · Steingrímur Eyfjörð · Þóra Karlsdóttir · Þórdís Alda Sigurðardóttir · Þórður Halldórsson frá Dagverðará · Þórunn Björnsdóttir · Þuríður Sigurðardóttir · Æsa Björk
Exhibition locations:
Breiðablik. All the Artist
Ræktunarstöðin S-Lágafelli – Inside and outside,
Staðastaður. The Barn
Búðir: Krambúðin / outside the shop
Öxl: radiobroadcast on FM 105,1
Litli Kambur: The Barn
Arnarstapi: Samkomuhúsið/ the communal house, Bárður Snæfellsás (outdoor )
Hellnar:Hellnakirkja, the church at Hellnar, Fjöruhúsið, two outdoor works
Dagverðará: In and around the ruins
Gufuskálar: Westpark reception
Hellissandur: Viðvík, Sjóminjasafnið two outdoor works, Bæjarskrifstofan, Skel
Ingjaldshólskirkja church
Rif:two outdoor works
Ólafsvík: Átthagastofa, Pakkhúsið, Jaðar home for the elderly, two outdoor works
Grundarfjörður: Bæringsstofa, Kaffi Emil, Bæjarskrifstofan, five outdoor works
Stykkishólmur:  Stykkishólmskirkja church, Egilsen hotel, Foss hotel, Franciskus hotel, Norska húsið,
Eldfjallasafnið/ The Volcano Museum, Æðarsetrið, Sundlaugin/ The Swimming pool, Narfeyrarstofa
A map of the exhibition is available at most exhibition locations.
Here you can find a Google Maps link to all the locations!